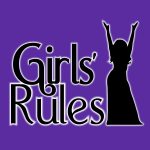 Get to know my Core Girls, Jett Micheyl and M.A. in PA. This is not a topic show, but rather a chance for us to record together before we add more voices on the next episode. We talk about shared interests, our other projects and we go on a bit long about MMO gaming since it's something we all dearly love.
Also, I ask for input from any males that may be listening as well as anyone that played Star Trek Online during the Borg attack on the last day of beta testing.
Promo:  Merciless Storytellers
You can leave feedback here at this site, send an email to GirlsRulesPodcast@gmail.com, or leave a voicemail at(717) 347-8537 or 7173-GRULES.
Theme music is by Emma's Mini, found on Magnatune.com.