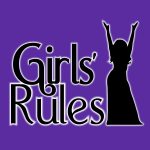 Recorded on August 8, 2010 via Skype, this discussion tackles con attendance. We cover comfort, safety, budgeting, etiquette and costuming tips, among other things.
My guests include:

As always, you can leave feedback here at this site, send an email to GirlsRulesPodcast@gmail.com, or leave a voicemail at (717) 347-8537 or 7173-GRULES.
Theme music is by Emma's Mini, found on Magnatune.com.
As a reminder, the views you will hear are the views and opinions of the panelists. We do not claim to be professionals, and we do not speak for anyone other than ourselves. Rawr.