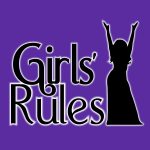 Viv reboots the podfade away with Jett Micheyl!
You can find Girls' Rules Podcast on Facebook & Twitter @GirlsRulesCast and you can email comments or show suggestions to GirlsRulesPodcast@gmail.com. 
This is Episode 9, the first since 2011!
We discuss this podcast's past and planned future and goals;
Yes it's all female voices, and no, we aren't a Feminist show, but rather discussions from our female points of view. We do hope for males to listen and give feedback, as well;
We get an update on many changes for Jett, big life stuff, along with An As Yet Unnamed Book Club in Facebook; Charity Miles to donate money through steps taken and tracked; and the Hogwarts Running Club!
We plead for donations for our Extra Life charity gaming fundraising team, So Many Levels. All donations for our pledged 24 hours of gaming will go to Children's Miracle Network Hospitals!
Jett shares her Dungeons and Dragons history and Viv talks about finally(!) getting to play and podcast it, on Christiana Ellis' So Many Levels: A D&D Podcast, Christiana as the DM, and fellow players and dear friends, Starla Huchton, Jared Axelrod and Chooch Schubert.

We discuss mobile games we're playing- Words with Friends, Word Feud, Animal Crossing, Pokemon Go;

Jett has an opinion on Daylight Savings change's impact on Monday morning drivers;

It's Election Eve so we're sharing some non-partisan info and hope for folks to get out and vote with these tips. Yes, it's probably too late for this election, but there's another in two years —

Viv's link- You can learn all the items on your ballot to research and understand them before getting to the voting booth by searching on "View My Ballot" in the google search bar. If the googles have your location info, it will pop up. If not, add it to see YOUR ballot items.
Jett's link – By fully answering an in-depth survey, you can determine what party and who your beliefs actually align with at ISideWith.com.

Shout out to influential and brave women – Marie Curie and Joni Mitchell were both born on November 7th and we celebrate them in 2016!
Intro and outro music was and remains "The Wait is Over" by Emma's Mini on Magnatune. (Viv just couldn't find anything better than the original theme song.)
You can also view the live video of this podcast on Chooch + Viv Productions Youtube page – Girls' Rules Episode 9.

This podcast is released under a Creative Commons, non-commercial, no derivitives 3.0 license. You are free to make copies and share this podcast to your hearts content, just not modify or make money from it.
As a reminder, the views you will hear are the views and opinions of the host and her guests. We do not claim to be professionals, and we do not speak for anyone other than ourselves.
Thank you for listening!