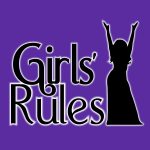 Welcome to Episode zero of Girls' Rules!
This is quick introduction, and the only episode planned with only my voice.
This is an exclusively female voiced show, where an ever-changing panel of women will discuss a variety of topics.
Episodes will be posted on a sporadic schedule, with a general goal of monthly releases.
You can leave feedback here at this site, send an email to GirlsRulesPodcast@gmail.com, or leave a voicemail at(717) 347-8537 or 7173-GRULES.
Theme music is by Emma's Mini, found on Magnatune.com.