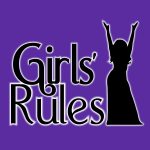 Recorded live on May 30, 2010 the panel included Mur Lafferty, Christiana Ellis, J.R. Blackwell and Philippa Ballantine. These are all highly creative and prolific female writers that have utilized new media in one way or another to share their works. We discuss a myriad of topics, and have great audience participation as well.
My apologies for the audio quality. The recording we received from the Balticon staff was only 2 minutes long, so this post is actually from our H4N. Yay for backup plans! My Boy Friday (Chooch) diligently worked his magic to improve the quality as much as possible, and he has my thanks for his efforts.
This episode is marked explicit due to infrequent profanity and brief discussion of erotica.
There is no promo, because the authors themselves reference countless tantalizing books and podcasts for your enjoyment.
As always, you can leave feedback here at this site, send an email to GirlsRulesPodcast@gmail.com, or leave a voicemail at(717) 347-8537 or 7173-GRULES.
Theme music is by Emma's Mini, found on Magnatune.com.
As a reminder, the views you will hear are the views and opinions of the panelists. We do not claim to be professionals, and we do not speak for anyone other than ourselves. Rawr.